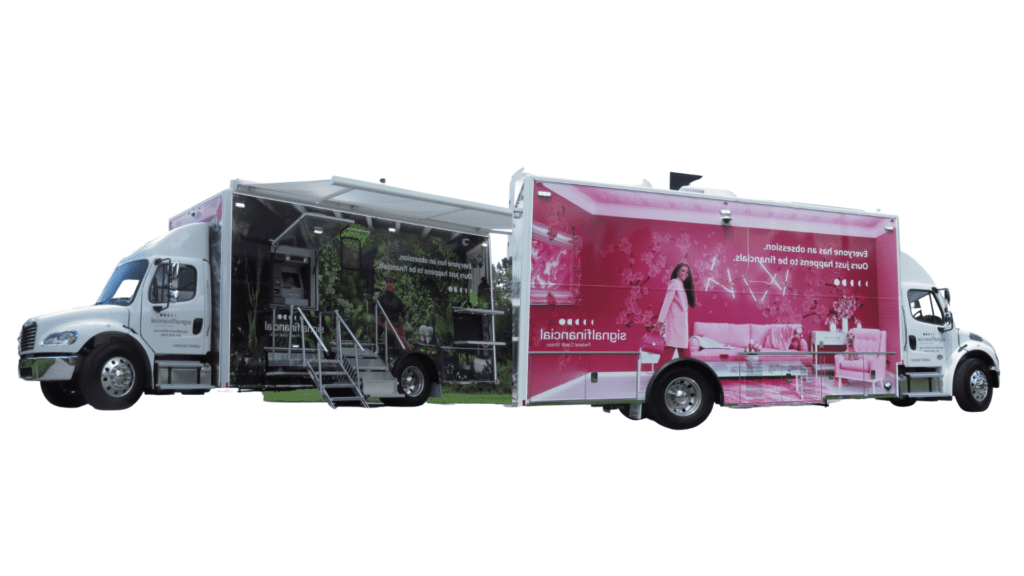 KENSINGTON, MD—Signal Financial Federal Credit Union is celebrating 73 years of service. On the day of Signal's anniversary there will be a ribbon cutting ceremony in honor of the arrival of the new state-of-the-art truck which will serve as a mobile branch. Signal Financial will be the first banking institution with a mobile branch in the DC Metro Area. The ceremony will take place on Friday, September 18 from 11:00am-12:30pm at the Kensington branch parking lot located at 3015 University Blvd. W Kensington, MD 20895. The ribbon cutting will begin at 11:30am followed by demonstrations that will be held to showcase this unique experience.
Truck Features
Customized video game that is played on a digital screen that covers the entire side of the truck
Internal office to open accounts and carry out other banking services
Monitor on the roof of the truck
ATM
External computer
Light refreshments will be served and packaged individually. Temperature checks will be conducted. Masks are required and will be provided.
WHO:
Signal Financial President & CEO, Francois Verleysen
Signal Financial VP of Member Service, Bill Kowall
WHAT:
Truck ribbon cutting ceremony on Signal's 73rd anniversary
WHEN:
Friday, September 18, 2020
11:00am-12:30pm
WHERE:
Signal Financial FCU
Kensington Branch
3015 University Blvd. W
Kensington, MD 20895
RSVP:
ldorsey@signalfinancialfcu.org
PRESS INQUIRIES AND INTERVIEW REQUESTS:
Contact: Leah Dorsey, Marketing Manager
Mobile: (240) 778-3697
E-mail: ldorsey@signalfinancialfcu.org
Facebook: www.facebook.com/SignalFinancialFCU
Twitter: @SignalFCU
Instagram: @SignalFCU
Web: www.signalfinancialfcu.org
###
About Signal Financial Federal Credit UnionChartered in 1947 (as the Washington Telephone Federal Credit Union) by a group of telephone company workers, Signal Financial FCU was formed to help people seeking a better financial alternative and to improve the quality of their financial lives, which remains true to this day. Signal Financial is owned and operated by members who share a common bond through employer or geographic affiliation and governed by volunteers who are elected by members to serve on the board. We strive to provide quality and fair-priced financial services for our membership. In turn, profits are returned to the members in the form of better rates, reduced fees, and improved services.
In 2007, the Washington Telephone Federal Credit Union officially became Signal Financial Federal Credit Union to be more inclusive of the many diverse businesses in our field of membership, in addition to our founding telephone company groups. Signal Financial FCU has grown to more than $400 million in assets serving more than 24,000 members. Our credit union family encompasses 250+ small-to medium-sized companies, members of the Washington Area Bicyclist Association (WABA), as well as individuals who live, work, worship or attend school in the District of Columbia or in Prince George's County, MD (inside the beltway). Certain family members and businesses (including their employees) are also eligible to join the credit union.
Signal Financial is federally insured by the National Credit Union Administration (NCUA), with deposits insured by the National Credit Union Share Insurance Fund (NCUSIF) up to $250,000.