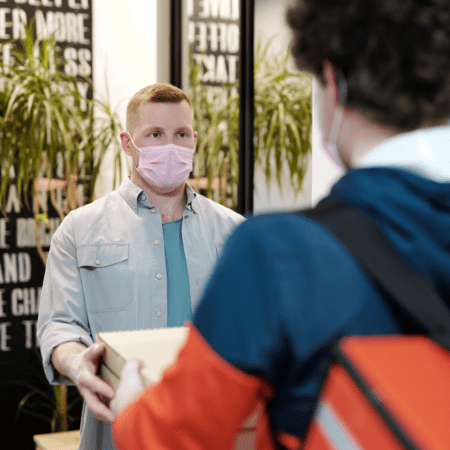 The first two quarters of 2020 were a historically dark time for the U.S. economy, as COVID-19 seized normal operations everywhere. Many businesses will not reopen, and many employees will not return to their jobs. According to The National Bureau of Economic Research 42% of the recent COVID-19-related layoffs will become permanent. Uncertainty forces change, and those that can adapt gracefully and swiftly enough can find success despite the turmoil.
Here are some businesses and industries that have found ways to thrive during the pandemic:
E-Commerce retailers – Online is booming. Makers and crafters across the globe are enjoying a surge in online eCommerce sales. From making masks and selling them in an Etsy shop to ordering books from an independent bookseller, eCommerce allows customers to support local businesses. They may order necessary PPE and hand sanitizer in addition to items that allow for pursing new hobbies.
Industrial real estate– When we think about an e-commerce distribution facility, we calculate that they require about three times that of a typical business-to-business facility to accommodate more complex packing systems and more product. With an interest in bringing some industries back to the United States for better control in times of disruption, as well as a new trend of increasing safety stock, demand for industrial space will likely grow.
E-Learning– With most of American children forced to continue their education from home, e-learning has had a tremendous boost. The same is true with higher education. With college tuition increasing significantly over the last decade, those institutions will be marginalized quickly by e-learning platforms and the younger generation of teachers will excel in this new era of learning.
Gardening and Landscaping– Spending more time at home has allowed homeowners to embrace their green thumbs. Many have bought supplies that allow them to start a garden from home, including seeds for vegetables and flowers.
Exercise and Fitness Equipment- Many individuals do not have access to parks, backyards, or trails. Some walk or hike outside. And it is still unclear as to when it will be safe to fully reopen public gyms and fitness centers across the United States. This is where exercise and fitness equipment play a major role in our health and homes. Additionally, all exercise machines like Peloton bikes and Mirror home fitness systems have seen a spike in sales, as well as the amount of views on YouTube for at-home exercise tutorials.
Signal Financial has various resources to help you with your business endeavors such as equipment financing, commercial real estate lending and even business credit cards.  For more useful tips, information and advice on financial empowerment, follow us on Facebook at: facebook.com/SignalFinancialFCU.   We're also on Twitter and Instagram at: @signalfcu-Written by James Fleet