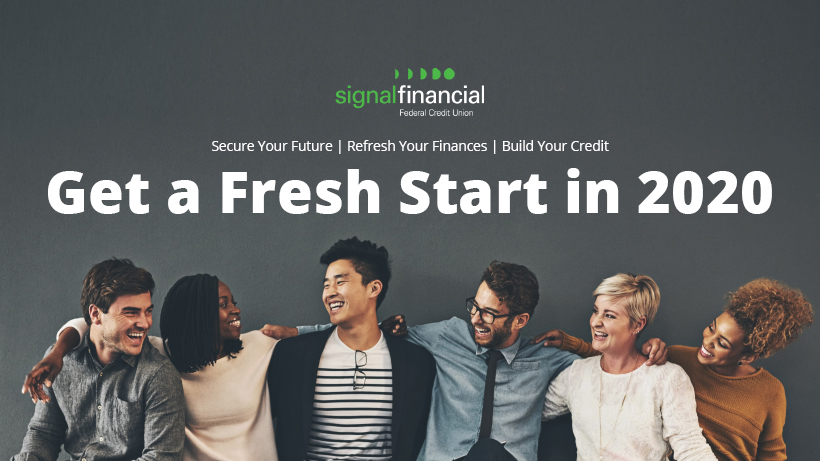 KENSINGTON, Md.—Signal Financial Federal Credit Union offers members of the Washington Metro region a "fresh start" on their finances with new resources and free online education in 2020.
43% of adults in the U.S. are financially illiterate
This comes at a time when a whopping 43% of adults in the U.S. are financially illiterate, according to Standard & Poor's Global Financial Literacy Survey—one of the largest financial literacy surveys of the past decade. Data from the survey also suggests that having a high income does not necessarily translate into a higher level of financial literacy.
A high income ≠ a high level of financial literacy
To combat this problem, Signal Financial is sponsoring free online financial literacy tools and education to enable financial empowerment in the Washington Metro Area, which includes a membership of nearly 25,000 residents. Signal Financials' new online resources micro-site offers a buffet of services to financial "goal getters" to help them reach their 2020 savings and investment milestones, including:
Money management counseling services;
Credit coaching;
Debt payoff calculators;
Financial literacy courses (webinars) and;
Information on discounted rates for home, auto and life insurance.
Signal Financial encourages financial literacy by sponsoring free classes
The free online courses for money management and credit enhancement are being offered in conjunction with Signal's content partner Balance, a non-profit financial education service.
"We are committed to empowering our community of members on the road toward saving more, investing wise and building wealth," says Signal Financial's President & CEO Francois Verleysen. "It's a part of our founding principles when, way back in 1947, a group of Washington area telephone company employees passed around a hat and raised nearly $40 to start our credit union. We are now a $400 million+ non-profit organization—and it's all thanks to our founders who saw a vision for their financial futures and took the steps necessary to see it through."
Upcoming courses include:
Are You Financially Healthy? – Tuesday, Jan. 14, 2020
Drive Away Happy: Car Buying Decisions – Tuesday, Feb. 11, 2020
Repaying Student Loans – Tuesday, March 10, 2020
Signal Financial members and the public can register for webinars at: https://signalfinancial.balancepro.org
In addition, Signal Financial is offering in the month of January a one-time Transition Loan up to $1,500 for current members who are transitioning from our Payday Advance, who qualify based off specific terms. Signal is also offering a new Fresh Start Loan Program to members who are interested in building or rebuilding their credit for a financially fit future. This credit-enhancing loan starts out at $1,000 and is available to members who commit to taking the next step in building their credit. Members are required to complete an online course on how to understand credit to qualify for the terms.
Signal Financial members can learn more information about the Fresh Start Loan Program in person at one of our six locations or by calling our Consumer Lending department at: 301-933-9100 ext. 105.
To become a member, residents simply have to live, work or worship in Washington Metro area.
PRESS INQUIRIES AND INTERVIEW REQUESTS:
Contact: Markette Sheppard, VP of Digital, PR & Marketing
E-mail: msheppard [at] signalfinancialfcu [dot] org
Office: (301) 933-3100 x 160
Mobile: (240) 778-3697

Facebook: www.facebook.com/SignalFinancialFCU
Twitter: @SignalFCU
Instagram: @SignalFCU
Web: www.signalfinancialfcu.org
About Signal Financial Federal Credit Union
Chartered in 1947 (as the Washington Telephone Federal Credit Union) by a group of telephone company workers, Signal Financial FCU was formed to help people seeking a better financial alternative and to improve the quality of their financial lives, which remains true to this day. Signal Financial is owned and operated by members who share a common bond through employer or geographic affiliation and governed by volunteers who are elected by members to serve on the board. We strive to provide quality and fair-priced financial services for our membership. In turn, profits are returned to the members in the form of better rates, reduced fees and improved services.
In 2007, the Washington Telephone Federal Credit Union officially became Signal Financial Federal Credit Union to be more inclusive of the many diverse businesses in our field of membership, in addition to our founding telephone company groups. Signal Financial FCU has grown to more than $400 million in assets serving more than 25,000 members. Our credit union family encompasses 250+ small-to medium-sized companies, members of the Washington Area Bicyclist Association (WABA), as well as individuals who live, work, worship or attend school in the District of Columbia or in Prince George's County, MD (inside the beltway). Certain family members and businesses (including their employees) are also eligible to join the credit union.
Signal Financial is federally insured by the National Credit Union Administration (NCUA), with deposits insured by the National Credit Union Share Insurance Fund (NCUSIF) up to $250,000.