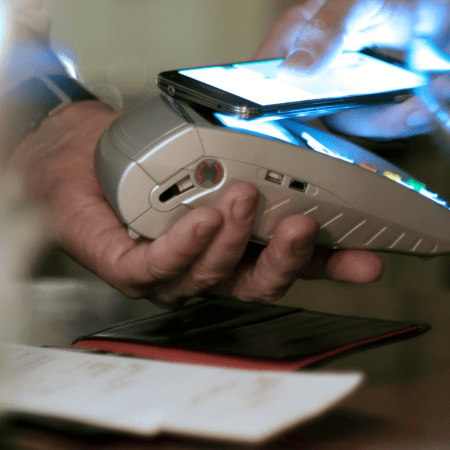 For users of many Samsung mobile devices, there's now an easy way to go shopping and pay almost anywhere you can swipe or tap your Signal Financial FCU card. The Samsung Pay app is compatible with select cards, carriers and Samsung devices. And it works in more stores than any other mobile payment service.
To use Samsung Pay, you simply swipe up from the bottom of your screen to launch the app. Secure your transaction with fingerprint authentication. Then hover your device close to the card reader, about half an inch over where you'd usually swipe or tap your card. A gentle vibration will let you know payment is being transmitted, and the card reader or cashier will confirm the payment is complete.
Because transactions are authorized with your fingerprint, you're in control of when each payment is made. That's also not the only way Samsung Pay makes shopping safer. Each transaction uses a dynamic token instead of your card number. In addition, embedded Samsung Knox technology ensures your device is constantly monitored for signs of malicious attacks or vulnerabilities. Even if your phone is ever compromised, your card information is still safely encrypted within a separate and secure data vault.
It's quick and easy to add your cards, so you can start using Samsung Pay right away. Your device's camera will scan in your card information for you to confirm. Secure your account with your fingerprint and a backup PIN, and in just a few minutes you're ready to go.
Samsung Pay currently works with Samsung Galaxy S7, S7 edge, S7 active, S6, S6 edge, S6 edge+, S6 active and Note 5 devices. An over-the-air software update is required to download the free app, and availability may vary by service provider.
Click here to learn more. To download Samsung Pay to a compatible device, visit Google Play™.