Promoting automatic savings to help our members reach their financial goals
KENSINGTON, MD – As part of America Saves Week 2020, happening Monday, Feb. 24 – Saturday, Feb. 29, 2020, Signal Financial FCU is spreading the message of saving successfully and urging our members and the public to use the tools available to them to boost their financial status, like setting up automatic savings.
Each day this week, Signal Financial will post a money-saving tip on its social media channels to provide the public with motivation, inspiration and practical advice on how to start where they are at in life to increase savings.
"People are taught how to ride a bike, how to drive a car and many more practical life lessons. It's high time we add saving strategically into the equation of things we are naturally taught to do," says Signal Financials' President and CEO Francois Verleysen. "America Saves Week is a great opportunity to help people in our community to set a goal, make a plan, and save automatically," says Verleysen.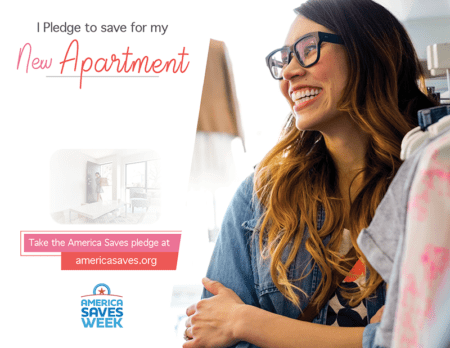 To encourage people to save more successfully and encourage more people to save, offers free online courses focused on financial literacy to its members through a partnership with Balance, a non-profit online learning website.
"Helping Americans save—particularly in the Washington Metro Area where the cost of living is so high—is a very good thing. We are proud to join in on America Saves Week!"
PRESS INQUIRIES AND INTERVIEW REQUESTS:
Contact: Leah Dorsey, Marketing Manager
Office: (301) 933-3100 x 363
E-mail: ldorsey@signalfinancialfcu.org
Facebook: www.facebook.com/SignalFinancialFCU
Twitter: @SignalFCU
Instagram: @SignalFCU
Web: www.signalfinancialfcu.org
About Signal Financial Federal Credit Union
Chartered in 1947 (as the Washington Telephone Federal Credit Union) by a group of telephone company workers, Signal Financial FCU was formed to help people seeking a better financial alternative and to improve the quality of their financial lives, which remains true to this day. Signal Financial is owned and operated by members who share a common bond through employer or geographic affiliation and governed by volunteers who are elected by members to serve on the board. We strive to provide quality and fair-priced financial services for our membership. In turn, profits are returned to the members in the form of better rates, reduced fees and improved services.
In 2007, the Washington Telephone Federal Credit Union officially became Signal Financial Federal Credit Union to be more inclusive of the many diverse businesses in our field of membership, in addition to our founding telephone company groups. Signal Financial FCU has grown to more than $400 million in assets serving more than 24,000 members. Our credit union family encompasses 250+ small-to medium-sized companies, members of the Washington Area Bicyclist Association (WABA), as well as individuals who live, work, worship or attend school in the District of Columbia or in Prince George's County, MD (inside the beltway). Certain family members and businesses (including their employees) are also eligible to join the credit union.
Signal Financial is federally insured by the National Credit Union Administration (NCUA), with deposits insured by the National Credit Union Share Insurance Fund (NCUSIF) up to $250,000.
About America Saves Week
Since 2007 America Saves Week, coordinated by America Saves and its partners, has been an annual celebration as well as a call to action for everyday Americans to commit to saving successfully. Through the support of thousands of participating organizations, together we encourage our local communities to do a 'gut-check' on their finances and saving behaviors. The America Saves pledge is the framework that allows savers to set a goal and decide to achieve better financial stability.