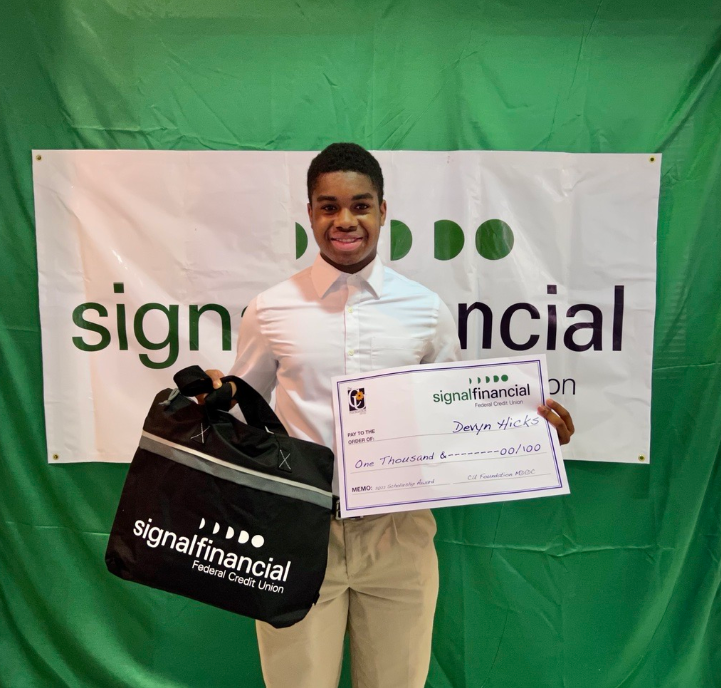 Signal Financial FCU would like to congratulate 18-year-old Devyn Hicks, a member of Signal who has been named a winner of the 2022 Credit Union Foundation of Maryland and DC annual college scholarship contest.
The scholarship contest was open to students entering their freshmen through senior year of college or trade school, who are also members of a credit union in Maryland or District of Columbia, or credit union that belongs to the foundation.
Hicks finished in the top ten out of more than 240 entries in the essay contest to win a $1,000 prize.
Applicants were asked to submit an essay based on the following topic: "In life, things can happen fast. Describe a sudden change in your life, real or imagined, that presented a financial challenge and describe how your credit union helped you get through it."
Here is an excerpt from his submission:
When I woke up in the morning, the birds were chirping, and the sun was shining. I felt refreshed. It was a beautiful day. Today I was to receive my first big paycheck. My parents did not feel comfortable with me working in public during the COVID pandemic. My mother had the brilliant idea to start an eBay business. We had so many toys, children's clothing, and miscellaneous items throughout the house to sell. I had asked my dad a few weeks earlier if I could sell a large bookcase that stood deserted in the basement. He surprisingly allowed me to sell the item and within a week I was shocked again to learn I had a buyer. No bidding or negotiation necessary, it was sold at top dollar. I waited a full day to see the money transferred to my credit union checking account.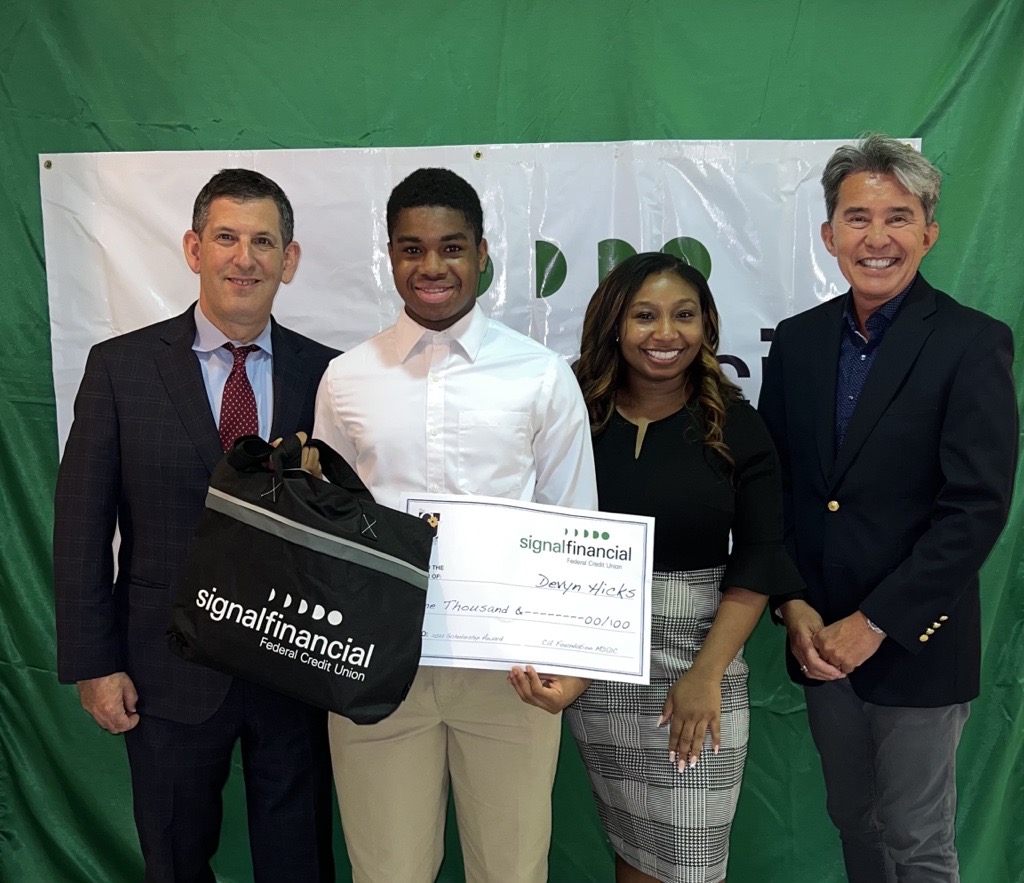 Hicks plans to attend Old Dominion in the fall. Please join us in congratulating Mr. Hicks and wishing him the best in his future endeavors.
For more information on the 2022 Credit Union College Scholarship, click here.
You can open a Signal Financial Bright Future account online for your young scholar today by visiting our Bright Future page.
-Only qualified applicants will qualify.
---
About Signal Financial Federal Credit Union
Chartered in 1947 (as the Washington Telephone Federal Credit Union) by a group of telephone company workers, Signal Financial FCU was formed to help people seeking a better financial alternative and to improve the quality of their financial lives, which remains true to this day. Signal Financial is owned and operated by members who share a common bond through employer or geographic affiliation and governed by volunteers who are elected by members to serve on the board. We strive to provide quality and fair-priced financial services for our membership. In turn, profits are returned to the members in the form of better rates, reduced fees and improved services.
In 2007, the Washington Telephone Federal Credit Union officially became Signal Financial Federal Credit Union to be more inclusive of the many diverse businesses in our field of membership, in addition to our founding telephone company groups. Signal Financial FCU has grown to more than $400 million in assets serving more than 24,000 members. Our credit union family encompasses 250+ small-to medium-sized companies, members of the Washington Area Bicyclist Association (WABA), as well as individuals who live, work, worship or attend school in the District of Columbia or in Prince George's County, MD (inside the beltway). Certain family members and businesses (including their employees) are also eligible to join the credit union.
Signal Financial is federally insured by the National Credit Union Administration (NCUA), with deposits insured by the National Credit Union Share Insurance Fund (NCUSIF) up to $250,000.