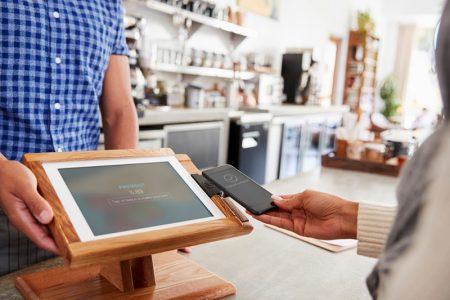 Using a digital wallet in this day and age is a safer way to shop in more ways than one, especially with growing global health concerns surrounding coronavirus.   For starters, you don't have to touch anything at a kiosk when checking out to pay for goods or services. All you have to do is simply open your mobile wallet and tap the payment screen to pay.  
A digital wallet is also a secure method for consumers to purchase products or services using a debit, credit or a chip card by using a software-based system that securely stores user payment information and passwords for numerous payment methods and websites, according to Investopedia.
If you have a Signal Financial FCU Visa® credit card and you haven't already added your credit card to your digital wallet, here's how to get set up:
STEP 1: With your credit card in hand, go to the Wallet app on your iPhone and tap the + button in the upper right corner.
STEP 2: Follow the steps in the Wallet app to add your Signal Financial FCU Visa® credit card.1
STEP 3: After your card is verified, agree to the terms & conditions.
STEP 4: Start using your digital wallet. You can now shop using Apple Pay today! Let us know how it goes! If you have any questions or feedback about your experience loading your card to your digital wallet, send us a message through our website.
Do you use an Android device? You can also add your Signal credit card to Samsung Pay and Google Pay. Debit card use for your digital wallet is coming soon!