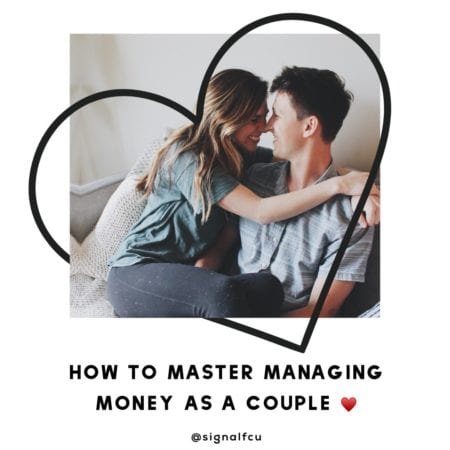 Managing money as a single person can be difficult enough, but how do you create the perfect financial union when you enter a relationship?

Begin with the tips below to keep the love alive and your finances flourishing!1. Start talking about your finances together on a weekly or monthly basis, and as often as needed. Be open and honest about your wants, needs and splurges when it comes to money. It's important to get everything out on the table to build a strong foundation of trust and understanding when it comes to how you and your partner handle money.
2. Discuss how many bank accounts you really need for one household and how you will manage them. For example, do you need one joint account, two individual accounts or both to manage your checking and savings needs. Also consider Signal's Bundle accounts to help you save money.

3. Design a budget that fits your lifestyle. Remember to factor in the love part of your lives, such as expenses on gifts and date nights. Include indulgences from both partners, like writing into the budget weekly manicures, haircuts or a beer budget, if you can afford it. No expense is too small or should go unchecked. Everything both partners spend money on should be accounted for in the budget.

4. Get help managing your money. Call Signal to schedule an appointment with a financial expert about investing in your future. Our number is 301-933-9100. We are here to help.
Happy Valentine's Day!
—The Signal Team