Signal Financial FCU would like to congratulate 18-year-old Eden Jones, a lifelong member of Signal who has been named a winner of the 2020 Credit Union Foundation of Maryland and DC annual college scholarship contest.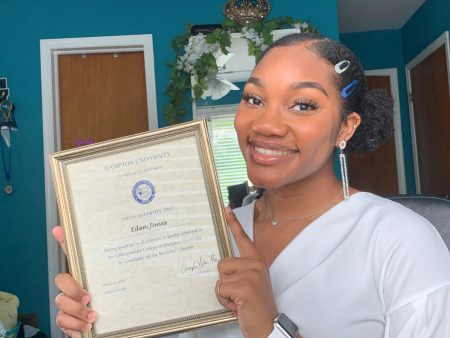 The scholarship contest was open to students entering their freshmen through senior year of college or trade school, who are also members of a credit union in Maryland or District of Columbia, or credit unions who belong to the foundation.
Jones finished in the top three out of more than 240 entries in the essay contest to win a $1,000 prize.
Applicants were asked to submit an essay based on the following topic: "It's 10 years in the future—the year 2030. Describe your vision of how you will manage your personal finances then. Include how you will pay for things, save, and borrow. Imagine how your credit union will help make that vision a reality".
Here is an excerpt from her essay submission:
" In the year 2030, I am building my career as a Child Psychologist four years after graduating from graduate school. I live in Washington D.C. and I am currently looking for ways to develop a stable financial plan. My credit union is helping me manage my personal finances with the assistance of Sally, my very own virtual credit union financial advisor. Sally makes sure that I have a realistic budget and allocate my income into my checking, savings, and investment accounts. Since Sally is a credit union virtual financial advisor, she is accessible to me and others who are a part of this program 24 hours a day, 7 days a week, and 365 days a year. This unlimited access to Sally opens up new opportunities to successfully manage my money as I continue my life in Washington D.C."
Jones, who has been a member of Signal Financial since birth, is currently finishing up her senior year of high school with virtual classes from her home in Washington, DC. She plans to attend Hampton University in the fall.
Please join us in congratulating Miss Jones and wishing her the best in her future endeavors.
For more information on the 2020 Credit Union College Scholarship, click here.
---
For more information on how you can open an account at Signal Financial for your young scholar, visit our membership page to start the process online.
---
About Signal Financial Federal Credit Union
Chartered in 1947 (as the Washington Telephone Federal Credit Union) by a group of telephone company workers, Signal Financial FCU was formed to help people seeking a better financial alternative and to improve the quality of their financial lives, which remains true to this day. Signal Financial is owned and operated by members who share a common bond through employer or geographic affiliation and governed by volunteers who are elected by members to serve on the board. We strive to provide quality and fair-priced financial services for our membership. In turn, profits are returned to the members in the form of better rates, reduced fees and improved services.
In 2007, the Washington Telephone Federal Credit Union officially became Signal Financial Federal Credit Union to be more inclusive of the many diverse businesses in our field of membership, in addition to our founding telephone company groups. Signal Financial FCU has grown to more than $400 million in assets serving more than 24,000 members. Our credit union family encompasses 250+ small-to medium-sized companies, members of the Washington Area Bicyclist Association (WABA), as well as individuals who live, work, worship or attend school in the District of Columbia or in Prince George's County, MD (inside the beltway). Certain family members and businesses (including their employees) are also eligible to join the credit union.
Signal Financial is federally insured by the National Credit Union Administration (NCUA), with deposits insured by the National Credit Union Share Insurance Fund (NCUSIF) up to $250,000.