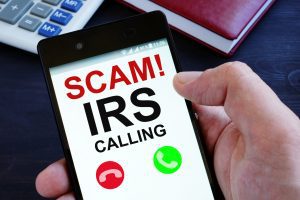 With the tax deadline drawing near, it is important to be diligent and pay attention to unsolicited emails, phone calls, or text messages claiming to be from the IRS. Scammers are hard at work during this time trying to steal personal information and money from unsuspecting victims. Always remember that it is extremely rare for the IRS to contact you first, so be very cautious when you receive communication from someone claiming to be an IRS employee.
The "Dirty Dozen" is an annual list composed by the IRS, of scams taxpayers may encounter during tax-filing season. This year, the IRS is warning taxpayers about a popular tactic used by scammers in which they pose as a "helpful" third party to help you set up your online IRS account. This is an attempt to steal your personal information to sell or file fraudulent tax returns, submit loan applications, and open credit accounts.
It is crucial that you're taking the right steps and precautions to protect yourself from falling victim to such scams. Find some helpful tips below.
Be suspicious ALWAYS.
Use secure passwords and multi-factor authentication.
File taxes promptly.
Make sure your tax preparer has been verified by the IRS.
Make sure your home Wi-Fi network is safe.
*Signal Financial Federal Credit Union is not affiliated with any of the companies mentioned or sites that are linked in this article.