Signal Financial FCU urges members and the public to stay vigilant as coronavirus scams are on the rise.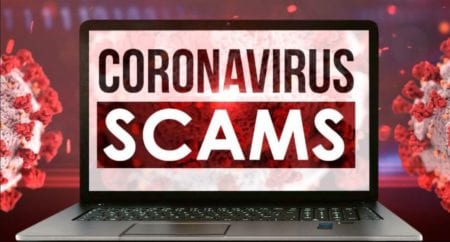 KENSINGTON, MD—Criminals are using fear and anxiety around the coronavirus pandemic as an opportunity to trick innocent people out of their money. Below are tips on how you can avoid becoming a victim of common pandemic schemes:

Stimulus Scammers. Criminals are hard at work trying to steal your stimulus check before it even arrives in your mailbox. They're impersonating US government officials. They may ask you to pay a fee to receive your check. Know that the US government will NOT ask for a fee for you to receive the funds, nor will the government ask for your personal account information. Here's all the information you need to know about stimulus checks on the official IRS website.
Healthcare Hackers. Ignore offers for a COVID-19 vaccine, cure or treatment. If there is a medical breakthrough, it wouldn't be reported through unsolicited emails or online ads. Instead, look for updates on a COVID-19 treatment, cure or vaccine from a trusted health information source, like the Centers for Disease Control or World Health Organization.
Phishing Phonies. Watch out for phishing scams.Phishing scams use fraudulent emails, texts, phone calls and websites to trick users into disclosing financial account information, like usernames and passwords. Do not click on links or open any attachments or pop-up windows from sources with which you are not familiar. NEVER give your password, account number or PIN to anyone. Read more on the official Credit Union National Association website.
Charity Crooks. Scrutinize any requests for donations from a charity you have never heard of before. Do some research before donating to a cause that is related to coronavirus relief. Be wary of any business, charity or individual requesting payments related to COVID-19 or donations in cash, by wire transfer, gift card or through the mail. Cross-reference any groups asking for a donation on the nation's largest online rating system of charitable organizations, Charity Navigator.
Bootleg Brokers. Before you make any investments, remember that there is a high potential for fraudright now. For information on how to avoid investment fraud, visit the US Securities and Exchange Commission's official web listing of the various types of investment fraud.
Cyber Criminals. Cyber crimes can happen when thieves embed malicious links to download malware onto devices or route users to bogus websites. Hover over suspicious links to view the actual URL to which you are being routed. Fraudulent links are often disguised by simple changes in the URL. For example: www.signalfinancialfcu.org vs www.signalfinancial.org. Can you spot the subtle change that makes one website illegitimate?
In addition, keep your computers and mobile devices up to date.Having the latest security software, web browser and operating system are the best defenses against viruses, malware and other online threats. Turn on automatic updates so you receive the newest fixes as they become available.
Change your security settings to enable multi-factor authentication for accounts that support it.Multi-factor authentication—also known as MFA or two-factor authentication—means there is a second step to verify who you are, like receiving a text with a number code or verification through face recognition.
Report Coronavirus Scams. If you suspect or know of criminal activity,visit the official website of the FBI's Internet Crime Complaint Center or the Federal Trade Commission's Complaint Assistant.
Watch the CEO Update on Facebook: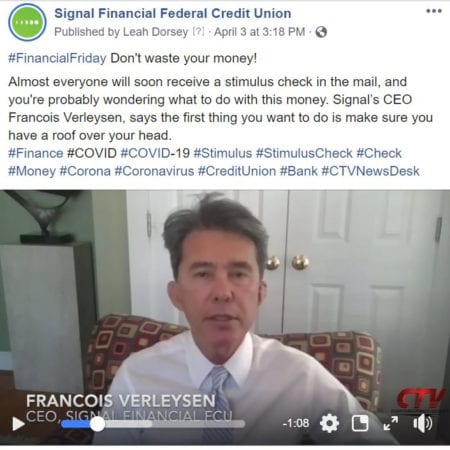 Facebook: www.facebook.com/SignalFinancialFCU
Twitter: @SignalFCU
Instagram: @SignalFCU
Web: www.signalfinancialfcu.org
About Signal Financial Federal Credit Union
Chartered in 1947 (as the Washington Telephone Federal Credit Union) by a group of telephone company workers, Signal Financial FCU was formed to help people seeking a better financial alternative and to improve the quality of their financial lives, which remains true to this day. Signal Financial is owned and operated by members who share a common bond through employer or geographic affiliation and governed by volunteers who are elected by members to serve on the board. We strive to provide quality and fair-priced financial services for our membership. In turn, profits are returned to the members in the form of better rates, reduced fees and improved services.
In 2007, the Washington Telephone Federal Credit Union officially became Signal Financial Federal Credit Union to be more inclusive of the many diverse businesses in our field of membership, in addition to our founding telephone company groups. Signal Financial FCU has grown to more than $400 million in assets serving more than 24,000 members. Our credit union family encompasses 250+ small-to medium-sized companies, members of the Washington Area Bicyclist Association (WABA), as well as individuals who live, work, worship or attend school in the District of Columbia or in Prince George's County, MD (inside the beltway). Certain family members and businesses (including their employees) are also eligible to join the credit union.
Signal Financial is federally insured by the National Credit Union Administration (NCUA), with deposits insured by the National Credit Union Share Insurance Fund (NCUSIF) up to $250,000.