Coronavirus Preparedness: Signal Financial FCU Takes Precautionary Steps to Protect Members, Staff & General Public Amid Widespread Public Health Concerns; Branches to Close Friday for One-Day Pandemic Response Test

KENSINGTON, MD—In the wake of news that coronavirus disease (COVID-19) has been diagnosed in several residents of the Washington Metro area, we wanted to let you know that Signal Financial FCU is taking a proactive approach to protecting the health and finances of our membership and staff.


Below is a list of precautions we are taking in order to prepare in the event of a health emergency, while continuing to stay focused on serving you: Pandemic Response Testing This Friday
On Friday, March 13, all Signal Financial staff will take part in emergency preparedness testing that will involve a company-wide remote work module.
"This will help prepare our organization for a pandemic response if a public health emergency shuts down local business operations in DC, Maryland and Virginia," says Francois Verleysen, President and CEO of Signal Financial. "All Signal staff will report to work on Friday, with many working remotely or from home as part of the pandemic testing," says Verleysen. . All branches will be closed on Friday, March 13 for emergency preparedness testing. View this post on Instagram
A post shared by Signal Financial FCU (@signalfcu) on Mar 11, 2020 at 7:15am PDTPrepare Along With Us Preparing for a public health emergency also includes your finances and still getting checks deposited and bills paid as you have planned. You can prepare for emergencies by making sure you are set up for our online and mobile services. Need to make a deposit or payment? You can use the following remote options at your convenience:
Remote Deposit Anywhere
You can easily download our Signal Financial mobile app on your smart phone or tablet and make your check deposits by taking a picture of the front and back of the check. Now is a great time to download the app, if you haven't already. You can get started here.


ACH Payment Forms
You can set up payments to your loans at Signal from another financial institution by setting up ACH origination payments. To get started, click here.


ATMs Available 24/7
You can easily deposit cash and checks at any Signal ATM using your debit card. For members who do not live near a Signal ATM, your membership gives you the benefit of using a Shared Branch ATM without incurring an out-of-network fee. To find an ATM near you, click here.
Ongoing Precautions in Branches & Main Office: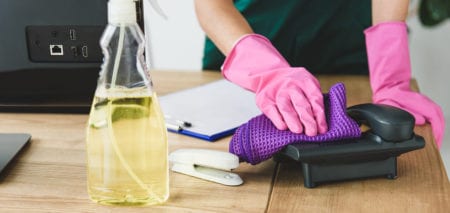 All Signal Financial employees who may be experiencing a fever, flu or symptoms linked to coronavirus are being asked to either stay home and rest or work from home until fully recovered, but not to come into the branches or offices to work.


All Signal Financial staff have been asked to wipe down their work areas and public spaces, including ATM machines, regularly with EPA approved cleansing solutions and disinfectant wipes.
PRESS INQUIRIES AND INTERVIEW REQUESTS:
Contact: Markette Sheppard, Vice President, Digital, PR and Marketing
Office: (301) 933-3100 x 160
E-mail: msheppard@signalfinancialfcu.org
Facebook: www.facebook.com/SignalFinancialFCU
Twitter: @SignalFCU
Instagram: @SignalFCU
Web: www.signalfinancialfcu.org
About Signal Financial Federal Credit Union
Chartered in 1947 (as the Washington Telephone Federal Credit Union) by a group of telephone company workers, Signal Financial FCU was formed to help people seeking a better financial alternative and to improve the quality of their financial lives, which remains true to this day. Signal Financial is owned and operated by members who share a common bond through employer or geographic affiliation and governed by volunteers who are elected by members to serve on the board. We strive to provide quality and fair-priced financial services for our membership. In turn, profits are returned to the members in the form of better rates, reduced fees and improved services.
In 2007, the Washington Telephone Federal Credit Union officially became Signal Financial Federal Credit Union to be more inclusive of the many diverse businesses in our field of membership, in addition to our founding telephone company groups. Signal Financial FCU has grown to more than $400 million in assets serving more than 24,000 members. Our credit union family encompasses 250+ small-to medium-sized companies, members of the Washington Area Bicyclist Association (WABA), as well as individuals who live, work, worship or attend school in the District of Columbia or in Prince George's County, MD (inside the beltway). Certain family members and businesses (including their employees) are also eligible to join the credit union.
Signal Financial is federally insured by the National Credit Union Administration (NCUA), with deposits insured by the National Credit Union Share Insurance Fund (NCUSIF) up to $250,000.