Signal Financial FCU Kicks Off Black History Month with 30th Annual National African American Read-In.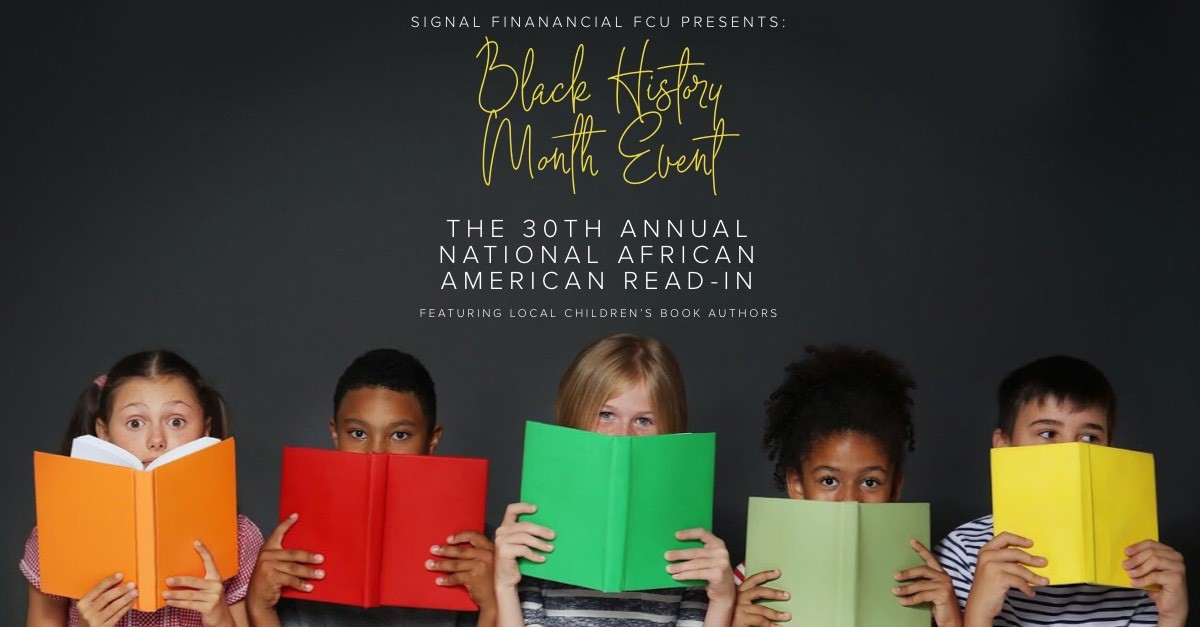 WASHINGTON—Signal Financial Federal Credit Union is a proud participant in The National African American Read-In, the nation's first and oldest event of its kind. The event, titled the "Black Authors Breakfast Party and African American Read-In" will take place on Friday, Feb. 7 from 7:00-9:00am at our City Center branch located at 1101 New York Ave. NW, Washington, DC 20005.
Signal Financial FCU's state-of-the-art City Center branch—which doubles as an art gallery and community gathering space—will serve as the venue, where attendees will hear author readings from celebrated local authors and enjoy a book signing from presenters.
Featured authors on behalf of the Read-In:
Caroline Brewer, Event OrganizerCaroline Brewer is author of Darius Daniels: Game On! is a journalist, editor, former teacher, literacy consultant and founder of the Happy Teacher training system. Brewer is also a member of Signal Financial. Brewer's work as an author and literacy activist has led her to consult with DC Public Schools, New York City Public Schools, and school systems in Virginia, Maryland, Michigan, Indiana and Ohio. Caroline joyfully has made presentations to more than 25,000 teachers, children, parents, and librarians across the U.S. Brewer was nominated for a Pulitzer Prize for her work on a collection of Sunday newspaper columns.


E. Ethelbert Miller
E. Ethelbert Miller, author of Fathering Words: The Making of an African American Writer, is an author, literary activist and board chair of the Institute for Policy Studies, a progressive think tank located in Washington, D.C. Miller is also the editor of Poet Lore, the oldest poetry magazine published in the U.S. He also has the distinction of being named a Fulbright Senior Specialist Program Fellow to Israel twice (2004 and 2012). Miller is the founder and former chair of the Humanities Council of Washington, DC and served as Commissioner for the D.C. Commission on the Arts and Humanities from 1997-2008. He is board emeritus for the PEN/ Faulkner Foundation.
Featured speaker on behalf of Signal Financial FCU:
Markette SheppardMarkette Sheppard is Vice President of Digital, PR & Marketing for Signal Financial Federal Credit Union. Sheppard is also an Emmy-award winning journalist and author of two children's books—the bestselling board book What Is Light? and the forthcoming My Rainy Day Rocket Ship (both are published by Simon & Schuster).
Additional esteemed writers from the Washington Metro Area are also set to participate, including:
Tracy Chiles McGhee, Author of Melting the Blues
Alan King, Poet and Author of Point Blank and Drift
Natalie Hopkinson, A Mouth is Always Muffled, Go-Go Live: The Musical Life and Death of a Chocolate City
Tony Medina, Howard English Professor, Author of I Am Alphonso
Sharon Lucas, Author of Plan It!
Marjuan Canady, Author of Callaloo: A Jazz Folktale
Karen Wilson Ama'Echefu, Author of Christmas Was Just Breakin'
Diana Veiga, DCPL Civic Engagement Coordinator and Short Story Author
Lois Cooper, Author of Momma Said
Deborah Barry, USA Today Reporter – Will be reading from 1619 special edition
Nichelle Smith, USA Today Reporter – Will be reading from 1619 special edition
---
WHO:
Signal Financial President & CEO, Francois Verleysen
Signal Financial VP of Digital & children's book author, Markette Sheppard
Signal Financial VP of Member Service, Bill Kowall
Pulitzer Prize-nominated journalist and Children's Book Author, Caroline Brewer
Founder of Humanities Council of Washington, DC and author E. Ethelbert Miller
Celebrated Local Authors
Book Lovers
WHAT:
30th Annual "African American Read-In" Authors Event
WHEN:
Friday, Feb. 7, 2020
7:00am – 9:00am
WHERE:
Signal Financial FCU
City Center Branch
1101 New York Avenue
Washington, D.C. 20005
RSVP:
marketing@signalfinancialfcu.org
---
PRESS INQUIRIES AND INTERVIEW REQUESTS:
Contact: Leah Dorsey, Marketing Manager
Office: (301) 933-3100 x 363
Mobile: (240) 778-3697
E-mail: ldorsey@signalfinancialfcu.org
Facebook: www.facebook.com/SignalFinancialFCU
Twitter: @SignalFCU
Instagram: @SignalFCU
Web: www.signalfinancialfcu.org
---
About Signal Financial Federal Credit Union
Chartered in 1947 (as the Washington Telephone Federal Credit Union) by a group of telephone company workers, Signal Financial FCU was formed to help people seeking a better financial alternative and to improve the quality of their financial lives, which remains true to this day. Signal Financial is owned and operated by members who share a common bond through employer or geographic affiliation and governed by volunteers who are elected by members to serve on the board. We strive to provide quality and fair-priced financial services for our membership. In turn, profits are returned to the members in the form of better rates, reduced fees and improved services.
In 2007, the Washington Telephone Federal Credit Union officially became Signal Financial Federal Credit Union to be more inclusive of the many diverse businesses in our field of membership, in addition to our founding telephone company groups. Signal Financial FCU has grown to more than $400 million in assets serving more than 24,000 members. Our credit union family encompasses 250+ small-to medium-sized companies, members of the Washington Area Bicyclist Association (WABA), as well as individuals who live, work, worship or attend school in the District of Columbia or in Prince George's County, MD (inside the beltway). Certain family members and businesses (including their employees) are also eligible to join the credit union.
Signal Financial is federally insured by the National Credit Union Administration (NCUA), with deposits insured by the National Credit Union Share Insurance Fund (NCUSIF) up to $250,000.

About The National African American Read-In
The National African American Read-In is the nation's first and oldest event dedicated to diversity in literature. It was established in 1990 by the Black Caucus of the National Council of Teachers of English to make literacy a significant part of Black History Month. This initiative has reached more than 6 million participants around the world. It was founded by Dr. Jerrie Cobb Scott, an English professor who wanted to spread the love of reading and the works of black authors around the world.